Hey Everyone, Happy Thursday 🙂
While getting ready for work today I was watching the Today Show and apparently some people have been getting allergic reactions to the lip balm Eos (Evolution of Smooth). ((Yikes)) 
Eos brand sells lip balm, shaving cream, hand, and body lotion. Although it seems like this lip balm just came out and took over the lip balm game it's actually been around since 2006. I feel like every other person I know has this little sphere lip balm in their bag lol. Now if you have been following my blog for a while you know that I don't use any kind of lip balm or chapstick. To moisturize my lips I use petroleum jelly. I have been using since I was a kid and have no plans on using anything else. With that being said…
It came out today (per what I seen on the Today Show this morning) that they are facing a lawsuit due to some people have allergic reactions. The young lady who filed the lawsuit stated that after using "summer fruit" her lips became blistered and a rash erupted all over her mouth. (information obtained from today.com).
Eos released a statement on twitter: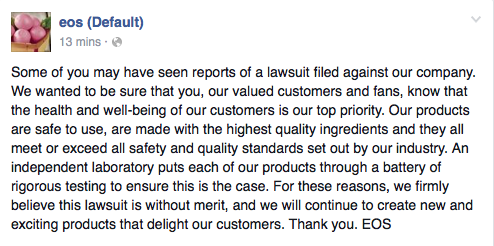 Now allergic reactions can happen anytime, I should know: one day I woke up and had a mild reaction to kiwi and pineapple (bummer right?) So whose to say Eos really caused this reaction? We'll never really know. But if it did, I just thought this was interesting news and wanted to share it. Now if you've been using this product and haven't had any issues you may be in the clear, but if I were you I would air on the right side of caution.
"According to Dr. Aleksandar Krunic, a dermatologist at Swedish Covenant Hospital and dermatology professor at University of Illinois College of Medicine, these are the simple, safest ingredients to look for in a lip balm"(Meghan Holohan today.com):
As usual I hope you liked my post. This was no way an attack on Eos, I just know it's a popular lip balm and wanted to inform you on the latest buzz :-). However if your not a fan of lip balm, check out my post on Petroleum Jelly (Vaseline):
https://beautybyelyse.net/2015/11/08/3-beauty-hacks-using-vaselinepetroleum-jelly/
Be Blessed Beauties